FLAMENCO FESTIVAL NEW YORK IS BACK! An intergenerational & universal art
From April 6 to 25, Flamenco Festival will come back to New York for its long-awaited 20th anniversary edition
From April 6 to 25, Flamenco Festival will come back to New York for its long-awaited 20th anniversary edition, which was postponed due to the pandemic. The 20th Flamenco Festival New York offers a programme that will shake up the New York spring with the arrival of top figures of contemporary Spanish flamenco who have broadened the horizons of this art form and broken down its borders, questioning its limits and managing to transcend tradition, orthodoxy and stereotypes. Names such as Miguel Poveda, Manuel Liñán, Mercedes Ruiz, Eduardo Guerrero, María Moreno, María Terremoto, Santiago Lara and David Carpio will offer shows in the different venues of Flamenco Festival USA, in the Big Apple and in other two cities: Miami and Los Angeles.
To date, Flamenco Festival has offered 696 performances by 137 different companies in 90 venues all over the world, with all the great names that have defined contemporary flamenco in the last 20 years: figures at the top of their careers such as Sara Baras, Miguel Poveda, Eva Yerbabuena, Estrella Morente, Carmen Linares, Tomatito, María Pagés, Manuela Carrasco, Israel Galván, Carmen Cortés, Rocío Molina, Olga Pericet, Rocío Márquez, Rosalía or Rafaela Carrasco, and masters such as Paco de Lucía or Enrique Morente.
Miguel Poveda will open Flamenco Festival New York on 7 and 8 April, with In Concert at the NYU Skirball Center in Manhattan: two essential recitals by this iconic figure of contemporary flamenco. On 6 April, the King Juan Carlos I of Spain Center (NYU) will host a meeting for faculty and students with Miguel Poveda himself and professor Pepa Anastasio (Hofstra University, NYC), which will also be live streamed on Facebook.
On 22 April, Manuel Liñán's company will return to New York City Center to perform ¡VIVA!, a show that has garnered international acclaim for the sincerity and strength with which it challenges the rules of traditional flamenco. ¡VIVA! is conceived as a jubilant expression of flamenco that breaks gender boundaries and exposes a new dramatic form.
In addition, on 23 and 24 April, at this emblematic venue, we will be able to enjoy Gala Flamenca: a great showcase of vitality of flamenco dance, which has long been the centrepiece of this festival. This year's Gala features Mercedes Ruiz, praised for her "commanding truth and virtuosity" (Financial Times, UK), Eduardo Guerrero, known for his "wonderfully eccentric solos" (The New York Times), and María Moreno, whose performance pays homage to the traditional style of Cádiz. These exceptional artists are joined by renowned musicians such as guitarist Santiago Lara and Jerez-born 'cantaora' María Terremoto, the youngest artist to receive the Giraldillo Award at the Flamenco Biennial of Seville. On Monday 25 April, María Terremoto and Santiago Lara will also give an intimate concert at the Instituto Cervantes New York, as the perfect final ending.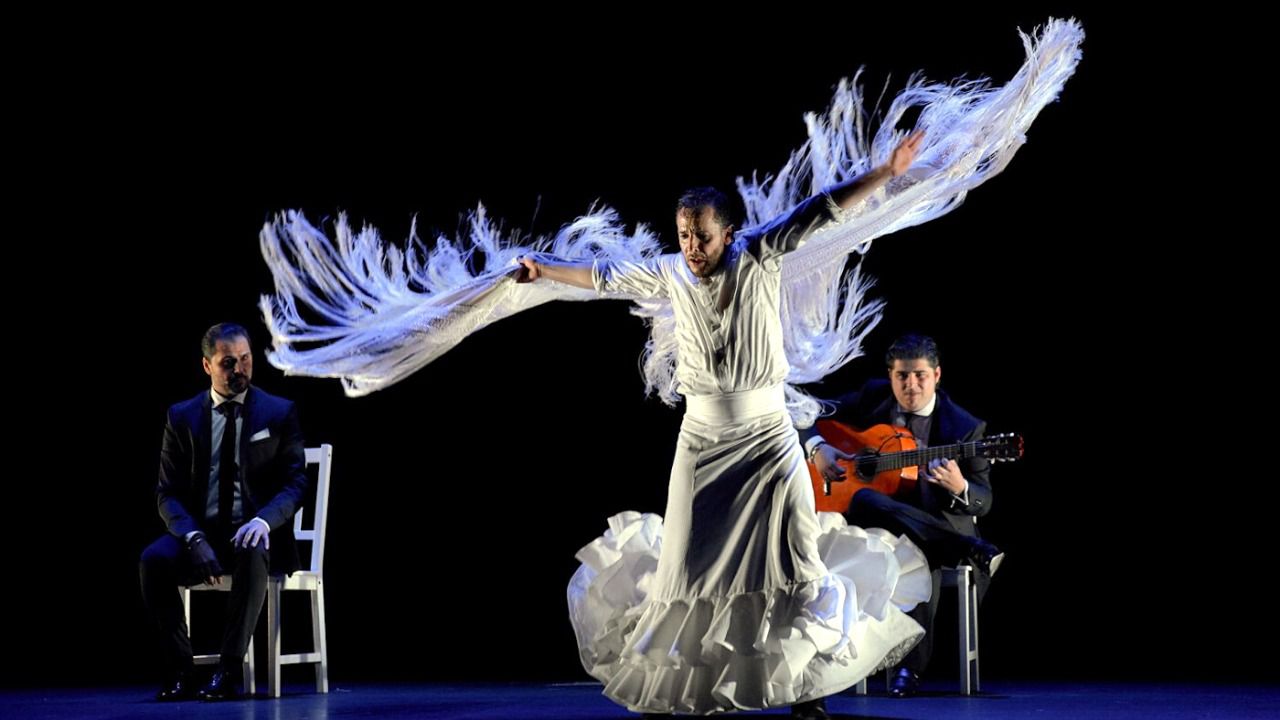 Flamenco Festival 2022 collaborates with the World Flamenco Congress organised by the  Instituto Cervantes New York on the occasion of its 30th anniversary offering meetings, talks and conferences focused on the current situation of flamenco. This universal art will be discussed as an art that emcompases diversity, inclusion and as a space where feminism and the LGTBIQ+ movements have much to say.
This year's programme includes a series of conferences at the Cervantes Institute's headquarters in Chicago and New York. Based on his own experience as a flamenco dancer and choreographer in ¡VIVA!, Manuel Liñán will discuss the new queer perspectives on flamenco on 20 April at the headquarters of the Instituto Cervantes New York. On 21 April, at the same venue, journalist Teo Sánchez will give a lecture entitled 'Flamenco mixes
& remixes' (A reaction sequence). In addition, the World Flamenco Congress will extend these conferences to the Instituto Cervantes of Chicago (Illinois).
Flamenco Festival seeks to cross all borders, bringing the magic of flamenco to all parts of the country. This year, the festival will be extended to other US cities: Miami and Los Angeles. In the former, on 10 April Miguel Poveda will perform In Concert, followed by the Gala Flamenca on 21 April, and by Manuel Liñán's ¡VIVA! on 22 April, at the Adrienne Arsht Center, Miami's most iconic performing arts theatre complex.
Following Flamenco Festival's commitment to artistic residencies and creative labs –initiated more than a decade ago–, between 16 and 20 April, the guitarist Santiago Lara will participate in a residency at the Koubek Center in Miami, together with the Venezuelan drummer Adolfo Herrera, and the Cuban singer Leslie Cartaya in an event that brings together the music, creativity, culture and traditions of Latin American territories. Also at the Koubek Center in Miami, David Carpio, Francisco Vinuesa and Irene Lozano will surprise the public with Flamenco Sound Series on the afternoon of 24 April.
It is worth mentioning Flamenco Festival's support and commitment to artistic creation, through its In Progress programme, that started in 2012 and has already hosted 18 projects of artists such as Rocío Molina, Dorantes, Olga Pericet, Jesús Carmona, Joaquín de Luz or Esperanza Fernández, in collaboration with renowned international centres such as Sadler's Wells (London), New York City Center, Jazz at Lincoln Center (New York) or Adrienne Arsht Center (Miami).
Finally, Flamenco Festival USA will also reach the West Coast with a concert by Miguel Poveda on April 13th in Los Angeles, at the historic Wilshire Ebell Theatre.
The 20th edition of Flamenco Festival New York is sponsored and supported by institutions such as the Instituto Nacional de Artes Escénicas y de la Música del Ministerio de Cultura y Deporte del Gobierno de España, NYU's King Juan Carlos I of Spain Center as part of its 25th Anniversary activities, the Instituto Cervantes as part of its World Flamenco Congress, the Agencia Andaluza de Instituciones Culturales, and Acción Cultural Española.
The most important platform for flamenco worldwide
Throughout its 20 years of history, Flamenco Festival has taken over almost the entire world, having presence in 101 cities, presenting 129 companies, 1.225 shows and an audience of over 1,600.000 people.
The largest flamenco platform in the international scene
Operating since 1996, Flamenco Festival is the main international flamenco promoter in the world. Its mission is to promote and spread the richness and variety of flamenco art, from traditional flamenco to the most avant-garde proposals.
The Times
A classy platform for three distinctly talented vocalists
The Independent
Sadler's Wells has struck gold with its annual season of flamenco