FLAMENCO FESTIVAL LONDON wins over London audiences with "VIVA!" at Sadler's Wells
The two shows of "¡VIVA!" by Cía. Manuel Liñán received a standing ovation from the audience at Sadler's Wells, and the 'bailaora' María del Mar Moreno surprised with a flashmob at King's Cross Station.
Flamenco Festival London kicked off this week at the iconic Sadler's Wells Theatre, with two performances of the revolutionary "¡VIVA!" by Cía. Manuel Liñán, which brought London audiences to their feet on the nights of 21 and 22 June, in the British capital. Besides, the screening of the acclaimed documentary "Flamenco Queer", by Ana González and Frederick Bernas, which sold out, did not disappoint.
The 17th edition of Flamenco Festival London features artists from different generations but with something key in common: their shows broaden the horizons of flamenco, breaking down its borders and questioning its limits, managing to transcend the tradition of this world heritage art.
María del Mar Moreno surprises with a flamenco flashmob at King's Cross Station
With the support of Jerez City Council, the 'bailaora' María del Mar Moreno gave a surprise to Londoners in one of the most iconic places in the city: King's Cross Station. In this place, the artist from Jerez showed her art through a flashmob, inviting the city's flamenco schools and curious bystanders to join in, taking flamenco from the stage to the streets of London.
In its commitment to extend the knowledge of flamenco beyond the borders of its place of origin, Flamenco Festival London has programmed two master classes at Studio 5 at Sadler's Wells on 23 and 26 June, to be given by María del Mar Moreno and Paula Comitre, respectively.
Ana Morales presents "Without Permission, Songs for Silence" in London.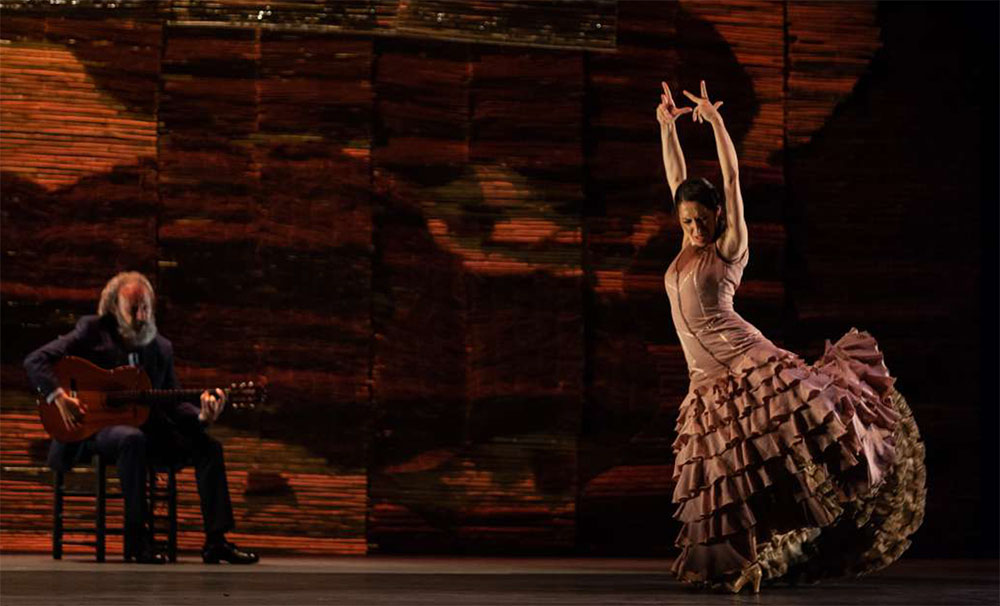 On Thursday 23rd, Ana Morales will present "Without Permission, Songs for Silence", a show that was created during her artistic residency "In Progress" developed by Flamenco Festival, specifically the one organised at Sadler's Wells in 2018. The production, awarded with the Giraldillo al Baile at the Biennial and three Lorca Awards from the Academia de las Artes Escénicas de Andalucía, is presented at the Sadler's Wells after being shown in different cities around the world over the last 4 years.
Gala de Jerez at Sadler's Wells: a celebration on the three stages of 'The Woman' in flamenco, past, present and future.
From flamenco tradition but contributing to the present of this art form, figures such as María del Mar Moreno, Pastora Galván or Fuensanta "La Moneta" will offer the show "Mujeres de cal y cante", on Thursday 24 and Friday 25 at Sadler's Wells: a tribute to the city of Cadiz organised by Flamenco Festival in collaboration with Jerez City Council, and that will continue in August in "the city of wine", where the Fiesta de la Bulería itself will also pay its own tribute to Flamenco Festival London.
Flamenco Festival London gives voice to the "Generation Z" with Paula Comitre, Ángeles Toledano, Yerai Cortés or Irene Ortega.
Flamenco Festival wants to give voice to the "Generation Z", a group of artists born in the second half of the 1990s, such as Ángeles Toledano, Paula Comitre, El Yiyo, Yerai Cortés, Daniel Ramos & Víctor Martín or Irene y José F. Ortega, who are changing contemporary flamenco, incorporating new perspectives, and the fusion with other genres such as electronic music.
On Thursday 23rd, En Compañía (Daniel Ramos y Víctor Martín), will present "Boreal" at Lilian Baylis Studio: a production that shows the artistic richness and technical complexity of flamenco through different elements of this art form. The artistic direction is supervised by Manuel Liñán (National Dance Prize 2017) and has the choreographic collaboration of the current director of the Spanish National Ballet, Rubén Olmo.
In addition, the Cervantes Theatre in London will again open its doors to Flamenco Festival's programme, offering concerts by "Gen Z" artists such as Yerai Cortés, Ángeles Toledano e Irene Ortega, who will perform in this space on the afternoons of 23, 24 and 25 June respectively.
Flamenco Festival London beyond the stages: The World Flamenco Congress.
Within the framework of the World Flamenco Congress, organised by the Instituto Cervantes, the artist Ángeles Toledano will present "1995", at the Instituto Cervantes in Leeds, on 23 June, while the "bailaora" Paula Comitre will perform "Named Body", on 26 June, at the Instituto Cervantes in Manchester.

In addition, on Friday 24, the Instituto Cervantes in London will host the lecture "Flamenco. Made for Europe. Del Ole! Al Wow", by the journalist Sara Arguijo. She will be followed by Luis Ybarra with the lecture "La Generación Z, una nueva forma de ver el flamenco", on 29 June.
Paula Comitre participates in an "In Progress" artist residency in London and will offer shows at Rich Mix and Lilian Baylis Studio.
Paula Comitre, one of the most promising young dancers on the current flamenco scene, will perform "Named Body" at Rich Mix on Saturday 25th, a dance suite, a combination of different dances, a new production that involves a moving reflection on the ins and outs and the potential of the sensitive body as a means of transmission, as well as on the way its constitutes its own language.
In addition, between 25-30 June, Flamenco Festival's artistic residency programme "In Progress" will host the artist Paula Comitre together with the Polish multi-instrumentalist Sabio Janiac and the artistic accompaniment of Ivan Bavcevic. A trio that will begin to work on new flamenco sounds and formulas for a future show that will undoubtedly surprise audiences on the evening of 1 July at the Lilian Baylis Studio at Sadler's Wells.
The 'cantaora' Estrella Morente will close Flamenco Festival's first week in London.
Flamenco Festival London recognises the value of tradition and genealogy in the flamenco of our time, highlighting the precedents set by flamenco masters and key figures such as Estrella Morente, who will offer the best of her art in a long-awaited concert at Sadler's Wells on Sunday 26th, in which she will explore the full range of feelings and experiences of flamenco women, closing the first week of the festival in the British capital.
María Pagés, Tomatito, Jesús Carmona, Rocío Márquez or Los Voluble, among the big names of flamenco who will offer performances next week.

​In addition to this week's shows, almost a dozen performances will take place from 28 June to 2 July in the British capital, in different venues. The Sadler's Wells Theatre will host artists such as María Pagés, Tomatito, Jesús Carmona, Rocío Márquez & Bronquio, or Los Voluble. 
Flamenco Festival London will also offer parallel activities to the shows, such as conferences by flamenco specialists, workshops by artists such as El Yiyo, as well as the final result of Paula Comitre's "In Progress" artistic residency.
21 performances over 12 days in more than 6 venues, which will bring together an estimated audience of 19,500 spectators.
Flamenco Festival London is one of the largest exhibitions of Spanish performing arts outside the Peninsula: the festival has already had 297,000 spectators and 280 performances by the most important figures and young promises of contemporary flamenco, positioning itself as a consolidated event in the British capital.
Flamenco Festival London 2022 is a project of Sadler's Wells Theatre, Flamenco Festival, and the Cervantes Theatre in London. It is supported by the Instituto Nacional de Artes Escénicas y de la Música del Ministerio de Cultura y Deporte del Gobierno de España, the Instituto Cervantes as part of its World Flamenco Congress, and Jerez City Council (Cádiz) and Acción Cultural Española, through the Programa para la Internacionalización de la Cultura Española (PICE). It also has the collaboration of Huelva City Council, the Andalusian Agency of Cultural Institutions of the Department of Culture and Historical Heritage of the Andalusian Regional Government and Murcia City Council.
The most important platform for flamenco worldwide
Throughout its 20 years of history, Flamenco Festival has taken over almost the entire world, having presence in 101 cities, presenting 129 companies, 1.225 shows and an audience of over 1,600.000 people.
The largest flamenco platform in the international scene
Operating since 1996, Flamenco Festival is the main international flamenco promoter in the world. Its mission is to promote and spread the richness and variety of flamenco art, from traditional flamenco to the most avant-garde proposals.
The Times
A classy platform for three distinctly talented vocalists
Dance Tabs
Rarely have I witnessed a prolonged standing ovation midway through a show but it happened here